Sealing compounds are designed to outlast sufficiently elastic or plastic to match the movement of the joints while adhering securely to the surfaces.
New materials and methods of joining them are growing fast in construction, and everyone should have knowledge about modern adhesives, sealants and joint fillers and how to use them. Sealants and Adhesives are used in several places in civil constructions.
Adhesives
An adhesive is a material used to stick two or more parts together so that they become a single unit.
Nowadays, there are many specially-designed adhesives in the market for different purposes. Adhesives have advantages over fixing by mechanical works like drilling, plugging, nailing, etc., and plastic materials like PVC pipes are always joined using adhesives.
Some adhesives are made to use only for one type of materials while others can be used with various materials. Adhesives are of three types:
Organic adhesives: These types of adhesives are obtained from animal protein, milk casein or starch, blood albumen, etc.
Rubber-based adhesives: These types of adhesives are nothing but materials in which rubber is dissolved in benzene or ground with other resins of plastics.
Synthetic adhesives: These adhesives are produced from natural resins or from manufactured plastic resins like melamine resins, urea resins and phenolic resins.
Adhesives Used in Timber Construction
Formaldehyde adhesives of phenol, urea and resorcinol are mostly preferred products in woodworks and used to make plywood and laminated products. They are also used in timber to strengthen the joints.
The following four grades of adhesives are well-known in timber construction:
Weatherproof and boil-proof (WBP)

- These grade products are highly resistant to micro-organisms, cold, boiling water and dry heat.

Boil resistant (BR)

- These products are inferior to WBP but resistant to weather.

Moisture resistant (MR)

- These products are moderately resistant to weather.

Interior (INT)

- These products are only for interior purposes.
We should check certain adhesives before we buy for plywood's, flush doors, etc. as some phenolic resin adhesives fall into the first group only. Plywood used for wet situations should be of WBP grade.
Fevicol is a synthetic resin adhesive used in the furniture industry which is resistant to heat and water.
Adhesives Used for Joining Concrete
The best adhesives Epoxide are used for bonding broken concrete or setting metal posts in concrete, which saves time in construction and builds the bond strength within a day.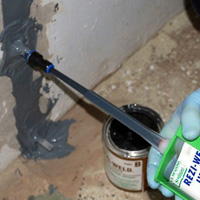 All epoxide adhesives used for buildings come in two parts and should be efficiently mixed before its use. Araldite is commonly used for concrete works available in many forms. The two parts used for Araldite adhesive are:
Araldite (GY250)

Hardener (HY 830, HY 850, etc.)
Nowadays, epoxy coatings are also used for coating steel rods for reinforced concrete construction to protect against corrosion.
Adhesives Used for Ceramic Tile Fixing
Ceramic tiles are used for floors, walls as tiles and also in interiors and exteriors for cladding. Due to the necessity to speed up the work and also need for curing cement works has introduced new products for tile fixing.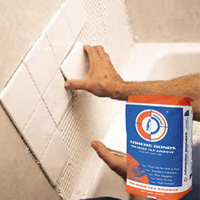 These products provide greater bond strength, reduction in weight of fixing material and make the work cleaner and quicker with fewer workers. They are generally one of the following products:
Natural or synthetic latex-based mortars.

Cement based formulated thin bed and thick bed mortars with latex.

Synthetic resin emulsion

Epoxides
Among all these products, the latex-based adhesives are very popular in construction.
Adhesives for External Claddings
External claddings or facades like stones, tiles, mosaic, coloured glass or steel framework are important items in tall buildings. Stone facings are usually fixed by metal dowels.
Special adhesives are developed for glass or special plastics like polycarbides that can be applied directly to the frames. This makes the structural framework invisible from the front elevation and thus presenting a continuous glazed surface.
Sealants
Sealants are used to fill in joints such as window-wall joints, in glazing, lap joint of roof sheets, etc.
Joint fillers are used where the sides of the joint are subjected to relative movements. Joint fillers should allow the joints to move to a specific extent but, the material should always maintain its joint-sealing capacity.
This special property is not present in brittle materials like concrete, plaster, etc. Linseed oil putty is the traditional material used for filling joints between glass to frame or panel to frame. This putty is used in low cost and ordinary building constructions.
Many types of sealants are available in the market for joint filling purposes of high rise building. The following are some available market forms:
Preformed strip

- They are supplied as preformed tapes.

Mastics

- They are of high viscosity liquid form applied by using a putty knife.

Semi-elastic sealants

- They are superior to mastics, applied by using special guns.

Elastomeric sealants

- They are the most efficient type of sealants applied by using special guns. Elastomeric silicon sealants are very efficient and popular.
Note: Three-side adhesion should be avoided otherwise adhesion at the back will cause the failure of the joint.
Adhesion should be only between the two opposite sides and cellular back up material is always provided to control depth of joint. This backup material should be a compressible gap filling material like high-density polyethylene or polyurethane strip which prevents back adhesion.
Posted By
Vani Paspula