A pleasant and beautiful living space creates all the difference in everyone's life. Your home should be the best of everything because it's where you spend most of your time and encounter life's greatest memories.
Proper lighting in a room helps to improve mood and positive thoughts of a person.
There are several types of interior lights for different living spaces, which can boost positive thoughts inside you or can make you go through depression. So, one should spend time while selecting and installing interior and exterior lights in their houses.
Know about the types of lighting and their uses before you choose:
Ambient Lighting: It is a background lighting, which produces a general or constant level of brightness on all objects and in all directions. This light is not suitable for reading, cooking, etc. as it holds low illumination levels.
Task Lighting: It is generally referred to as office lighting, because it is specially designed for tasks like reading, working, writing, and in many other activities, where less illumination and more contrast levels are required.
Accent Lighting: It is used in decoration purposes to add a soft glow on specific objects.
Here are a few tips to help you choose the right interior lighting for your homes.
Living Room Lighting
Your modern living room lighting should be a blend of ambient lighting and focused task lighting. To make it more attractive, we can add accent lighting as an optional special touch.
We can achieve this by selecting appropriate lights for your living room considering the room's size, interior and your taste of style.
There are a different variety of light fixtures and lamps like ceiling lights, floor lights, and table lights available for living rooms. These lights can be adjusted according to the requirement of lighting in various corners of a room.
For ambient lighting in living rooms, we can use Chandeliers, Pendant lights, Wall scones, Recessed lights, Fan kits (most modern lights comes along with fan).
At present, wall lights are trending, which makes a wall decorative and attractive adding intensity to a room.
Task lights such as Table lamps, Desk lamps, and spectrum lamps can be placed next to a chair, over a table, in a cosy corner, etc. and piano lamps can be placed over a piano or keyboard.
Accent lights showcase some special objects in the room. We can use accent lamps, novelty lamps, decorative tiffany lamps, spotlights and picture lights to highlight artwork and antique objects.
Bedroom Lighting
Bedroom lighting is a key player because it's not just a place to sleep. It's your own personal space where you can relax, watch TV, read a book and spend quality time for yourself.
There is a wide range of lights available for bedroom that include night lamps or bedroom lamps, wall lights, bedside lights, Under vanity and cabinet lights, etc.
You should always choose warm lights that can create a warm and cosy atmosphere in the bedroom. Design your bedroom lighting that set lovely accents and creates a perfect ambience for comfort and good health.
Kitchen Lighting
Kitchen is known as the soul of the house, and it requires the right balance of lighting to prepare meals. We should design kitchen lighting that it should not have space issues and also set a warm environment for the guests to enjoy without fuss.
Add a wow factor to your kitchen by installing pendant lights or by using linear suspension lights. Touch of under cabinet lights to your kitchen helps to prepare meals safely and helps in spotting needed ingredients for the meal.
Make your kitchen shine by placing right accent lights include recessed, over cabinet and toe kick lights. These lights provide proper lighting where ever needed and also add a more stylistic touch to your kitchen.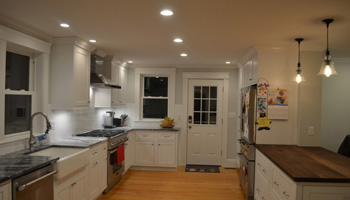 Focusing on the right layers balances lighting on every corner of the kitchen and makes you enjoy each delicious meal.
Bathroom Lighting
Your bathroom lighting should be bright and beautiful so that you can enjoy a relaxing and refreshing bath. Always install lights that are soft and light up your mood.
Install bright lights like wall lights or spotlights, which help in cleaning bathrooms, and completing daily routines. You can opt for colour changing lights as per your mood. You should always set a light on the top of the mirror to get ready as fast as possible for a job or work.
Mirror-lights, bright ceiling lights, colour changing lights in the bathroom make a perfect bathroom to refresh and relax.
Check Out: Tips for Buying Bathroom Accessories.
Posted By
Vani Paspula