Embrace Change - Opt for Latest Smart Products
Nowadays everything became smart, and people are adapting to new technologies to do their things in a smart way rather than choosing a traditional way.
According to the change taking place, the products coming in the market are also updating with smart features like smart bulbs, smart door locks, wifi switches, etc.
Lighting plays an important role in our day to day life as they bring brightness to our houses. There are many new electrical smart products are introduced to the market recently, which most of the people are not aware of them.
Smart Light Bulbs
These bulbs are nothing but LED-based bulbs that are controlled by a hub or Smartphone apps. Smart bulbs are easier to set up, more compatible, much brighter and possess better colour combinations which can be set by using control app associated with them. Today smart bulbs are trending in the market and are available for very reasonable prices.
Some of the Brands you might want to know before buying them:
Philips: Philips Hue is like a personal lighting system that enables us to manage our light and build the correct ambience for each moment. Philips Hue is easily compatible with all virtual assistants like Amazon Echo, Google Home Assistant, Razer, Apple Home Kit and many more. Get started with Hue Products like Starter Kits, Bulbs, Lightstrips, Lamps and obtain benefits like smart control, away from home control, light schedules, comfort dimming, play with colours, sync with the music, movies, etc.
Wipro: Wipro smart lightening solutions make building architecture smarter thereby saving money. The Wipro believes that controlled Smart LED lighting improves workplace safety, comfort and convenience, and offers a wide range of smart lighting solutions for indoor and outdoor facilities. Area controller (HUB) constitutes Switching module, Dimming module, Occupancy Sensor, Daylight Sensor and Keypads. Wipro Smart LED consists of a million colours to choose from, and we can change it whenever and wherever according to our convenience.
Syska: This Company also produces smart LED lights with smart solutions. The products available at present are smart light wifi enabled table lamps, and smart light wifi enabled bulbs.
Smart Switches
Smart switch is a new way to control your home lighting and switch wired devices. The installation of these switches is very simple, it's just a replacement of existing switches. By using smart switches, we can easily control the lights or adjust automatically with our Smartphone's when you enter the house.
The best advantage of using smart switches is that we can schedule timings for lights to switch on and off even we are on vacation or away from our home. It's the smarter and easier way to keep our homes safe and secure. Use of smart switches also helps in reducing monthly electricity bills.
Currently, home automation is trending everywhere many people are opting for smart lighting systems. We can buy smart products from brands like Philips, Panasonic, GE, Hampton, Google, Amazon, Apple and many more.
Smart Locking Systems
A smart lock is designed in such a way, locking and unlocking operations can be carried out by using wireless protocols or cryptographic key.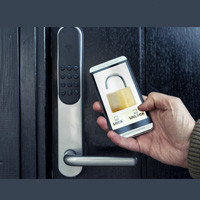 Smart locks are an extension of home automation in which a homeowner has to enter their home using their Smartphone or a key fob to verify wirelessly and mechanically to unlock the door. Many smart lock systems use mobile apps or virtual keys sent through SMS to grant access to guests or third parties.
Some smart locks also consist of a camera feature, in which accessing can be granted through a referenced photo log. Check out our latest smart door locks.
Also Read: A Buyer's Guide to Electrical Items
Posted By
Vani Paspula