Everyone would love to have a beautiful bathroom with comfort in the house. While designing it, make sure that your bathroom should be the next best place after bedroom.
The question arises here, what type of bathroom accessories should you buy? You can't just grab whatever accessories you need. First, you need to know about the functions of products, brand, quality and nowadays, style matters a lot too!!
The accessories in the bathroom should be more convenient and should also give aesthetic impact to the bathroom. These are some ideas to make your bathroom attention-grabbing.
Draft your budget
The budget comes first as always to list out the products. Knowing your budget is necessary to select the products required for your bathroom.
You need to ensure that the products are of good quality and also should make your bathroom look beautiful and luxurious.
Go with the space available
Consider the space available for your bathroom before buying unnecessary accessories. It's useless to have many products which you don't use and also makes your bathroom congested.
If your bathroom space is small, then make it look good by adding glossy tiles and mirrors around walls. There are some latest products in the market which are especially for small bathrooms that occupy less space.
Choose the products wisely
Look matters but also functionalities of products. Firstly shop for the essential products to have in the bathroom like washbasins, faucets, showers, bathtubs, floor drains and others. The items should be of good quality and also should add style to your bathroom.
If your bathroom is spacious, then don't forget to try new accessories like a whirlpool, spas, saunas, shower enclosures and steam solutions. Products like these are trending at present and also add a royal style to your bathroom.
Select the right bathroom tiles
Flooring also vital to make your bathroom look beautiful. Materials should be natural and soft that blend with any space. Choosing the tiles of neutral styles can match with any accessories.
There are many different designs of wall tiles and floor tiles are available in the market. Nowadays, glass tiles and digital tiles are mostly using as wall tiles in bathrooms.
Perfect Lighting to a flawless look
Lighting is an essential element to create an atmosphere that's relaxing and pleasant. Proper lighting in the bathroom makes you feel good about yourself and also confident when you look in the mirror.
Decorative lights add visual sparks, and Ambient lights fill light throughout the bathroom. Choose lights according to space available and decorate them with your style.
Give an extra look with furniture
Modernize your bathroom with space-saving shelves, vanity sets, hampers, free-standing and wall hung. These bathroom decors are available in different models and colours.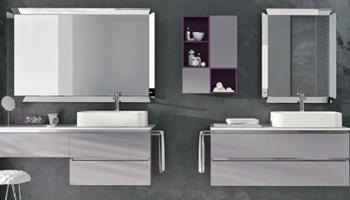 Using furniture in washrooms helps to keep all bathroom products like soap dishes, toothbrushes, towels, shampoos and other products in one place.
Always make sure the accessories should fit your bathroom without making it look clumsy. Also, use bathroom fresheners to keep your bathroom refreshing every time. Give your bathroom a classic touch with these tips.
Posted By
Vani Paspula